When I made a move for a new job I needed to be strategic about what I was bringing to my much smaller new apartment, and one of the first things that got axed was my 24U rack. Being able to have a full rack really scratched the parts of my sysadmin brain, and I wanted to find a way to have a mini rack in my new place. I had a few requirements:
Small and easy to source parts to build
Hold my Unify USG, switches, and Raspberry Pis
Look good as it will be in the background of all my online meetings
Initial Idea #
I knew from the start I would want to be able to re-use one the method I used on my 24U rack to mount my Raspberry Pis: the Raspberry PI 4 2U rack-mount Mark III by Ivan Kuleshov (merocle). I had a bunch of left over 2020 extrusions from another project and had just enough to build a frame that just perfectly fit the width of all the appliances that I wanted to mount, as well as enough room to have room for 5 of the Raspberry Pi sled mounts.

After firing up Fusion 360, I modeled up some very quick mounts for the Unifi USG, NETGEAR switches, and some new ears for the Raspberry Pi rack-mount sleds.
All of the models for this project are available on Thangs.com
Putting it all together #
The initial prototype for the appliance mounts were printed with the last of some of my HTPLA+ Geomagnetic Mauve from Fusion Filaments. After assembling I was super happy with how everything fit together. I was going to let the prototype sit for a few days to make sure everything was working as expected, but those few days turned into a few months - which ended up being very important. Below is the comparison between the initial build and what happened over the next 8 months:
| Initial Build | After 8 months |
| --- | --- |
| | |
Design Refinement #
I believe this significant sag in the mounts was a mixture of a poor initial design, and some heat induced sag after a few months of use. I ended up re-designing the mounts for the USG and switches by adding in a ribbed underbody and extending the bottom, as well as adding some active cooling with a fan to the USG and PoE switches which seemed to generate the most heat. I printed the new parts with 4 walls / 40% infill to add to the rigidity.

Final Build #
After re-printing the newly re-enforced mounts, I gave it another couple months to make sure that the new designs would not sag. The new designs have been in use now for 3 months and they are still holding strong.
For the final build, I ended up designing some wire management clips, and added a second switch to the rack that is a second LAN that is specifically going to be used for a Cybersecurity lab that I am building. In the months that I had it in the background of my meetings, it always sparked some good conversation, especially during a few interviews.
Overall I am super happy with how it turned out, and even when I am back in a spot where I can break out the 24U rack, I think will still keep this one around.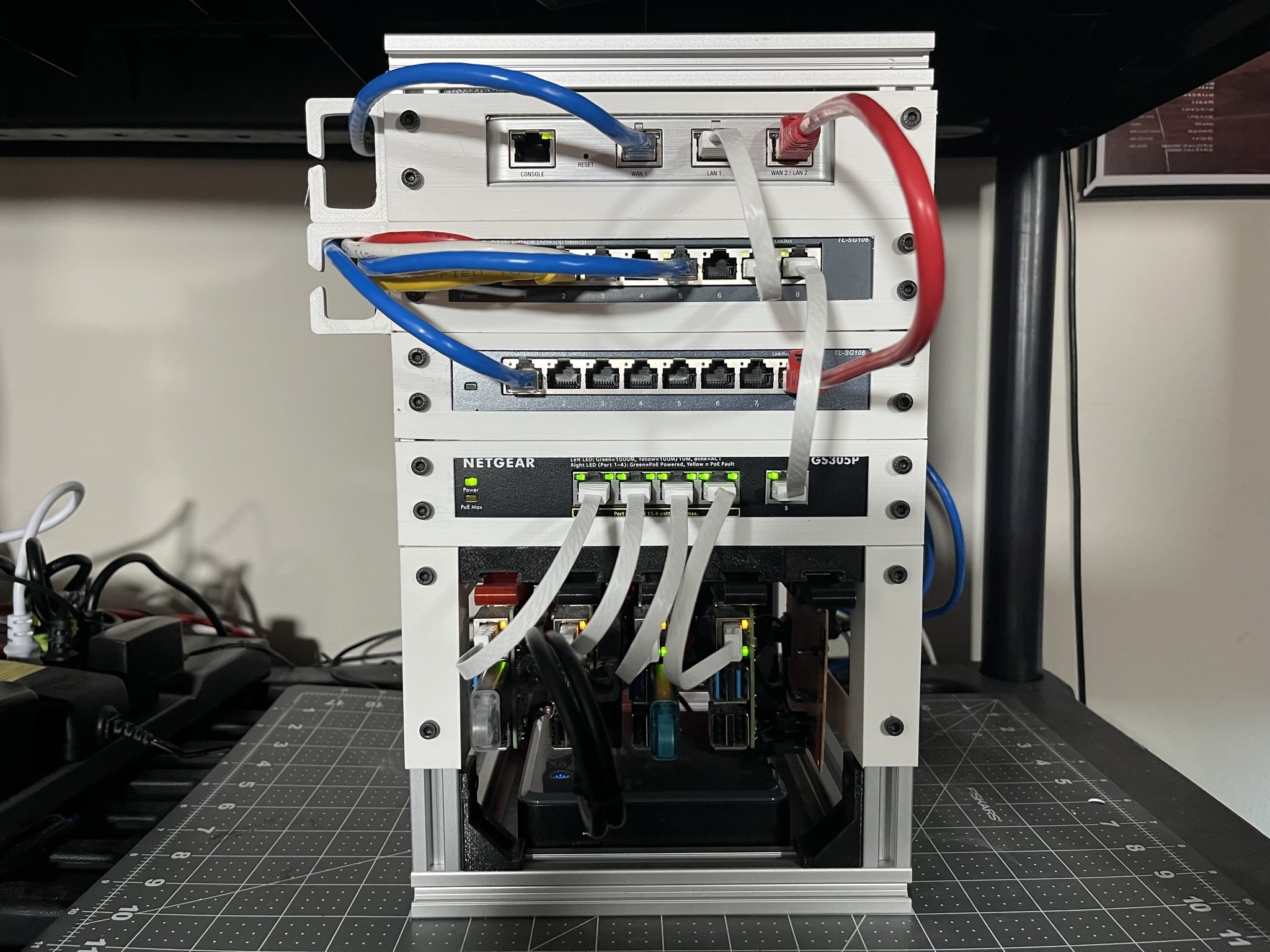 Parts List #
Affiliate links, if used, will result in a small commission.
3D Models #